Drinkaware Monitor 2017: UK Adults' drinking behaviours and attitudes
Date published
13/12/2017
In spring 2017 Drinkaware in conjunction with YouGov carried out research to uncover UK adults' drinking behaviours and attitudes. The survey also explored wider health and lifestyle areas such as diet, exercise and smoking.
Background
We surveyed a representative sample of 6,174 UK adults aged 18 to 75 online, between 27th March and 18th April 2017, to investigate drinking behaviours, occasions and motivations, harmful drinking behaviours, and moderation techniques.
Aims and objectives
The main aims of the research were:
to provide an overview of adults' drinking behaviour in the UK
to explore attitudes towards alcohol, moderation strategies and harmful drinking behaviour
to investigate drinking behaviour among different demographic groups and explore which may be at higher risk
to provide profiles of different types of drinkers, to help us target communications and tailor messages effectively.
Key findings contained in the report
Over a quarter (26%) of UK adults typically exceed the limit recommended by the UK Chief Medical Officers of 14 units per week.
Having a small number of drinks at home with a partner as a couple is the most common situation in which adults drink overall; the graph below shows this split by age groups.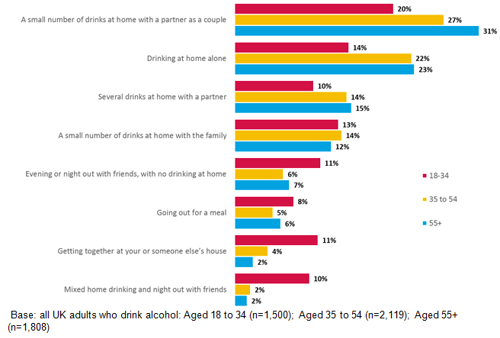 The most common motivations overall for drinking are social reasons with 84% of those who drink saying they do so for social reasons at least some of the time.
Coping reasons are an important, but less common, reason overall for drinking with 47% of UK drinkers saying they drink alcohol to cheer them up when they are in a bad mood.
One in 10 UK alcohol drinkers say that they have found that they had not been able to stop drinking once they had started at least once a month.
Almost a fifth say they are changing their drinking behaviors right now.
At least two-fifths have utilised certain scheduling or planning methods to cut down.
Younger people (18-34 year olds) are more likely to employ methods of avoiding alcohol altogether in certain situations, whereas older drinkers are more likely than others to limit themselves when they do drink.
Our new segmentation analysis revealed eight distinct groups of drinkers (depicted below).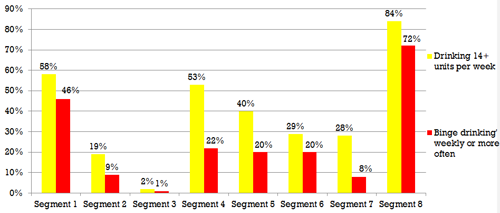 Independent analysis
Drinkaware invites researchers to access the Drinkaware Monitor for independent analysis. For more information, please contact our research team: research@drinkaware.co.uk
Was this information helpful?