Alcohol harm reduction through a football club health intervention
Date published
04/06/2020
12-month follow-up data show significant reductions in levels of harmful drinking.
In 2017, Drinkaware began a partnership with Derby County Football Club which involved providing alcohol education resources to participants in their Community Trust's health programmes run in partnership with the Derby City Council's Public Health Department.
The projects aim to help people of all ages across the city of Derby to get fitter, stop smoking, reduce harmful drinking and improve their overall health and well-being.
Read about the programmes here
Monitoring Impact
A self-complete alcohol harm assessment using the validated AUDIT-C tool was undertaken at baseline before the start of the programme and then at follow-up every three months.
Findings for the 91 participants who completed the full 12-month programme show a clear trend of participants in the 'possible dependence', 'higher risk' and 'increasing risk' categories over time moving into the 'low risk' category (see figure below).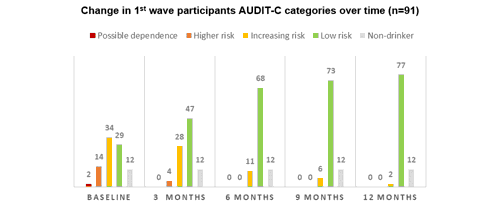 While the findings are promising, care should be taken in attributing the reduction in AUDIT-C scores to the intervention participants received. The absence of a control group prevents ruling out other factors that may have led to a reduction in AUDIT-C scores. In addition, as participants were asked to complete the same tool (AUDIT-C) on several occasions, response bias may have influenced the results.
Next steps
We are planning in 2019 to follow up with qualitative interviews and case study investigations to better understand how the programme is achieving these very positive results, and what learning we may be able to bring to other future activity.
Was this information helpful?