Summer mocktails
Here is a selection of non-alcoholic cocktails, perfect for when the sun shines.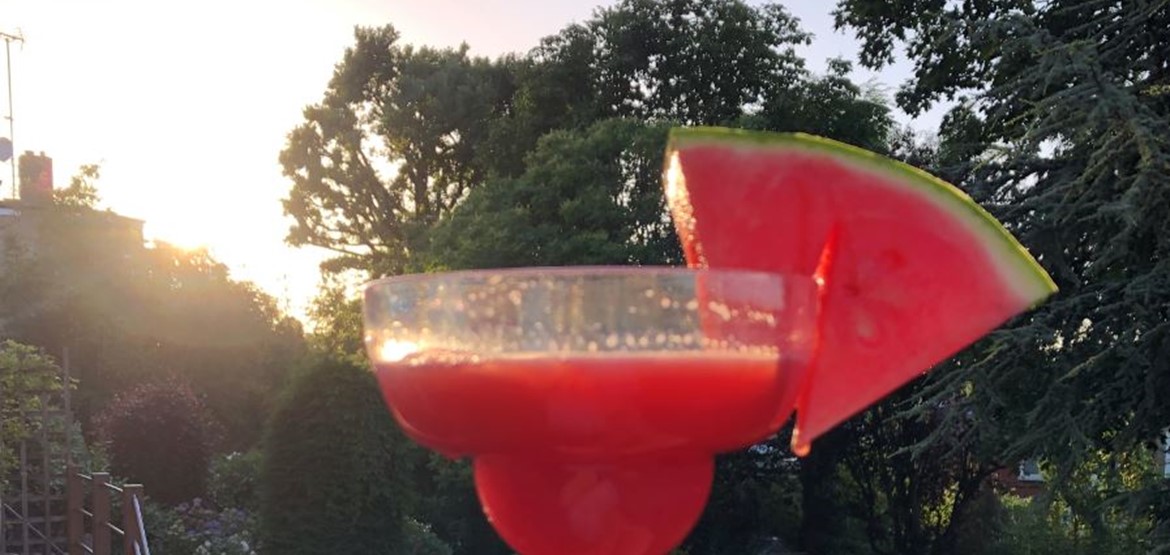 Date Published
24th June 2020
Topics
Lifestyle
Alcohol free
Drink Free Days
How to reduce drinking
Back
Here is a selection of non-alcoholic cocktails, perfect for when the sun shines.
Long sunny days and – hopefully – warmer weather are a great combination for celebrations. And if you want something a bit different to drink, whether you're toasting an occasion or relaxing in your garden, we have put together five delicious and refreshing mocktails that are perfect for summertime.
Pineapple and Coconut Cooler
This drink is similar to the Pina Colada, which is originally from Puerto Rico. This cooler is the drink for you if you want something fresh, fruity and creamy, yet not too sugary.
Makes three to four drinks.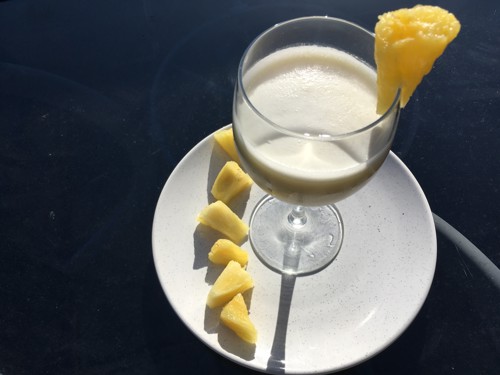 Ingredients:
225g unsweetened pineapple chunks (fresh or frozen)
120g ice
200g unsweetened pineapple juice
200g unsweetened coconut milk (use a lighter version if you prefer)
1 tbsp brown sugar or runny honey (this is optional – sweeten to your taste)
Garnish: fresh pineapple wedges
Recipe:
Chill your glasses by filling them with crushed ice or iced water
Meanwhile, place the frozen pineapple chunks and ice in a food processor or blender.
Pour the pineapple juice and coconut milk over the top. Add the brown sugar or honey, if using. Puree until smooth.
Empty out the ice or ice water and pour the pineapple mixture into your chilled glasses. Garnish with fresh pineapple wedges.
Watermelon Fizzy Fresca
This recipe is inspired by Agua Frescas, which are commonly drunk in Mexico and made with a wide range of different fruit. For this recipe we have chosen watermelon, for its bright colour and juicy taste.

Makes four to five drinks.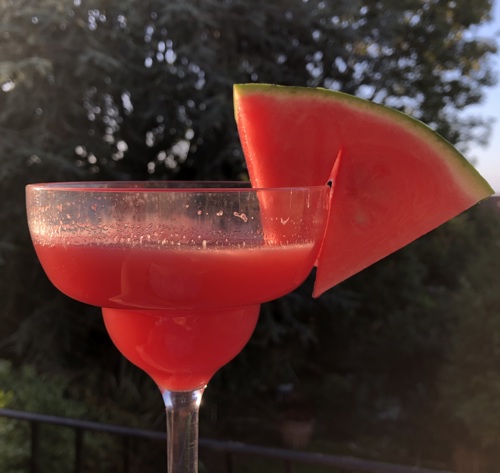 Ingredients:
800g of watermelon, chunks (remove the seeds)
1 tbsp lime juice
6 mint leaves or a bunch
Sparkling water (to pour on top of the mixture)
120g ice, crushed or cubes
Watermelon slices, for garnish
Recipe: 
In a food processor or blender, blend the watermelon chunks, lime juice, and mint leaves until smooth.
Strain the watermelon mixture, if desired, and set aside.
Fill your glasses with ice.
Pour the watermelon mixture over the ice to fill each glass 3/4 of the way to the top.
Top each glass with sparkling water, garnish with watermelon slices.
Jewelled Lemonade
Lemonade is often an easy choice if you're looking for non-alcoholic options and we've found a delicious way to make your own and liven up the flavour by customising ice cubes. This recipe is both bright and refreshing.

Makes six drinks.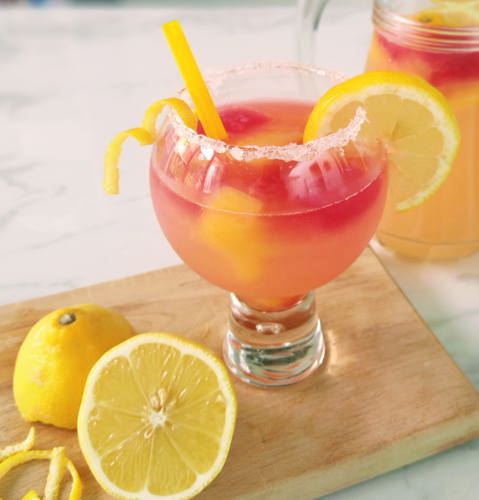 Ingredients:
200ml orange Juice
200ml cranberry juice
140g white caster sugar
1 litre of water
300ml of lemon juice from a bottle or the juice of 4 unwaxed lemons
Runny honey (this is optional – sweeten to your taste)
An empty ice cube tray, enough for 12 ice cubes.
Recipe:
In one half of the ice cube tray pour in the orange juice, and in the other half pour in the cranberry juice. Put in to freeze.
In a pan over a low heat, combine the sugar with 250ml of the water until the sugar dissolves. Remove the syrup from the heat and allow to cool before placing in the fridge until chilled.
When chilled add the syrup to a large jug with the lemon juice and remaining 750ml of water. To sweeten the drink, stir in drops of honey to taste.
Pour the lemonade into glasses and serve with your fruity ice cubes.
Raspberry Shrub Fizz
Whether you grow them in the garden, buy them from a farm or pick them up in a supermarket, there is no denying that raspberries are a tasty summer fruit. Their natural sweetness is great for this mocktail recipe.
Makes two drinks.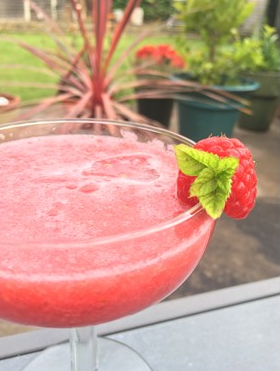 Ingredients:
100g fresh raspberries, plus extra for garnish
50g runny honey
A handful of fresh mint leaves (about 10), plus a few extra for garnish
Juice of 1 lemon
120ml sparkling water
Recipe:
In a cocktail shaker, muddle together the raspberries, honey, and mint until very well blended. (Don't have a cocktail shaker? No problem. Just use a wooden spoon to muddle the ingredients in a small bowl or put the ingredients in a liquidiser to blend.)
Add the lemon juice and sparkling water, cover, and shake thoroughly to mix. (The juice of a whole lemon makes this drink deliciously tangy and sharp – if you prefer it sweeter, use a little less lemon and a little more sparkling water)
Add ice cubes to two glasses and strain your raspberry mixture over the ice, using a mesh sieve to remove the fruit's seeds.
Garnish the glass with reserved raspberries and mint leaves.
Gin-less G&T
If you enjoy more bitter or botanical tastes, this non-alcoholic drink is the one for you. This recipe requires minimal effort and yields a great flavour. It's also customisable to your taste.  
Makes up to 10 drinks.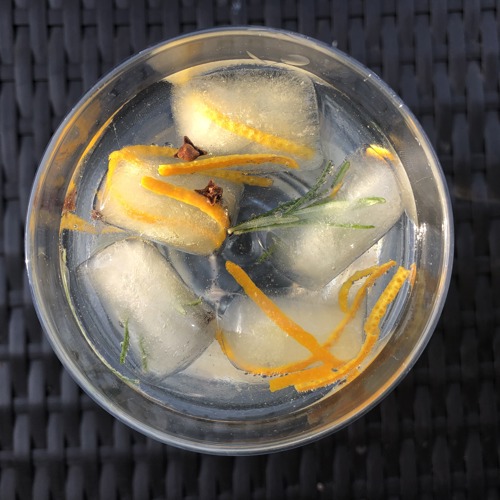 Ingredients:
Base of 500ml water in a jug

Sugar free tonic water, to top up

Botanical flavourings (use them all, or leave some out – it's up to you!)
5 cardamom pods

Half a cucumber
2 star anise 
Small bunch of mint leaves
Thick strips of lemon or orange zest (you could use a potato peeler)
5 juniper berries
5 cloves
Small bunch of rosemary
Empty ice trays

 
Recipe:
Bruise the cardamom pods and slice the cucumber. Put them both in a large jug 

along with the

 mint leaves, 

a few strips of 

citrus

 zest, 

cloves

 and 

half of the 

rosemary

 (or

 whatever combination you desire

)

. 

 

 

Top up with 500ml cold water. Leave to infuse in the fridge for 2-4 

hours,

 or overnight

. 

Thinly slice the remaining

citrus

 peel 

and add to empty 

ice cube trays

 along with 

rosemary 

leaves and/

or juniper barriers

. F

ill 

the tray

 with water and place in the freezer. 

(As the ice melts, you will be left with a lovely botanical 

garnish 

in your drinks)

.

To serve, strain the infused water pour

ing

 50ml into each glass. Top up with tonic water and 

add 

your 

botanical

 ice

 cubes

. 

(For a stronger

 tasting

 drink, use more of the infused water per 

person).