Guest blog: Neil Hudson-Basing on the origin of The House of Happiness, an alcohol and drug-free clubbing extravaganza
Neil Hudson-Basing, is the co-founder of The House of Happiness, which is an alcohol and drug-free clubbing extravaganza based in London. These queer-led and delivered events are coming up to their one-year anniversary! Neil reflects on his journey creating these events and spreads the message that you don't need alcohol to tear up the dance floor and party hard!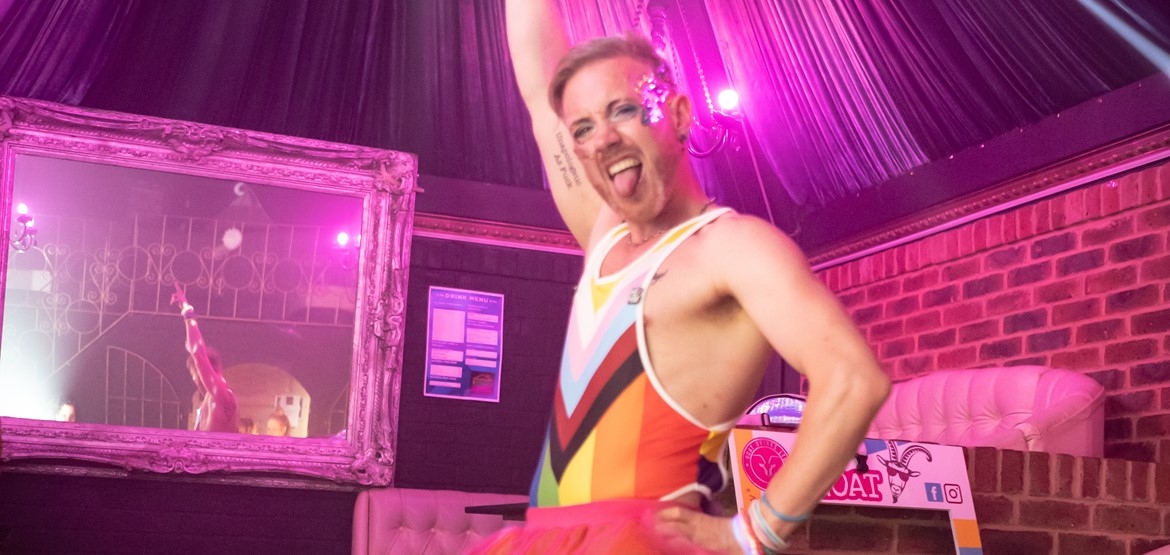 I was a party boy from sixth form to university and even more so through my late 20s to 30s. I'm 40 now and am still a party boy. The only difference now is that I'm sober.
I went to UCL in central London, and being round the corner from Soho was brilliant as a young gay guy. There were weeks where I'd barely see daylight, needless to say I didn't always make it to lectures. After university, I moved to South London, and my reputation as a party boy was cemented. I loved the dance floor and wherever me and my housemates lived there was a party. This was fun until the aftermath of the destroyed house, hangovers, comedowns, drama, lack of productivity and eating poorly for days.
This way of life definitely became a habit that, over time was becoming less enjoyable. But I clung to that reputation and persona for so long, if I wasn't the wild party boy, then who was I?
In 2019, I signed up for an ultra-marathon, which for me meant having a break from alcohol during my training. A lot of friendships became strained by this shift to not drinking, and I got invited out a lot less. I had two sober weddings in those first few months, which to many sounds terrifying. But I figured nobody knew I wasn't drunk, and so I threw myself onto the dance floor and still loved it and probably pulled off the moves better than when I was drunk.
These and other experiences meant learning how to navigate social situations without alcohol. This was fine while I was training every weekend, but when I decided to extend my booze snooze after race day was done, many of my friends were miffed. I was also taken back by people's reactions to me not drinking. I don't have a recovery story, just like many people who decide to cut out alcohol, and the reality is there are all sorts of reasons why people don't drink other than addiction, such as lifestyle shifts and religion. But there's still so much stigma to deal with.
Last year, the world was opening up after COVID and one of my best friends and sober inspirations, Jayney asked if I was interested in organising a sober clubbing event with her friend, Emma,. I said yes, as creating a queer-led sober event would be fun and worthwhile – and The House of Happiness was born. We wanted to create a proper clubbing event simply minus the booze. This meant something for everyone, whether teetotal, sober-curious or simply having a drink-free day.
We held our first event in October 2022 called HOUSEWARMING, which was amazing with a fully stocked alcohol-free bar, DJs, dancers and entertainment, a ton of glow sticks and glitter and a venue packed with awesome, sober party people raving the day away without a drop of booze in sight. Success!
You would've thought I'd finally proved to everyone who knows me that I am still able to have a cracking time without alcohol, right? Well, the truth is that I still get asked are you still not drinking? Which at this point is, frankly, a bit boring. The reality is, that I don't have to prove anything about my relationship with alcohol to others. As much as I've never actually said "never again", I'll be carrying on partying without alcohol for the foreseeable. Because I am still that party boy, just showing up to the party more authentically and hitting the dance floor happier and healthier than I ever did before.
I don't think Emma, Jayney or myself ever thought we'd be co-founders of a sober clubbing event when we first began our alcohol-free journeys, but a year on The House of Happiness is celebrating its first birthday on 7 October with our BIG BDAY BONANZA. This will be our seventh event, and we hope to see lots of shaking, moving and popping on our safe, inclusive dance floor. Our events have also become known for our pre-meets to help people meet new alcohol-free buddies as well as our killer dancers, glitter artists and banging house tunes courtesy of our fab guest DJs. Earlier this year Cosmopolitan named us as the best sober night out in London.
A journalist recently asked me if I thought sober clubs would ever 'really' become cool.... my response remains this: What's cooler than people getting out there as their authentic selves, without the need for drugs or alcohol, with the purpose of simply having a bloody good time?
Find out more about The House of Happiness and their social media channels here.
[Photo above of Neil at a House of Happiness event, photo credits @phoebe.shot.this]
Find out more
Advice and support for the LGBTQ+ community