Guest blog: Alcohol harm in trans and non-binary communities
Dr Callum Phillips (he/they) talks about alcohol harm in the trans and non-binary community and the need for more research and inclusive support.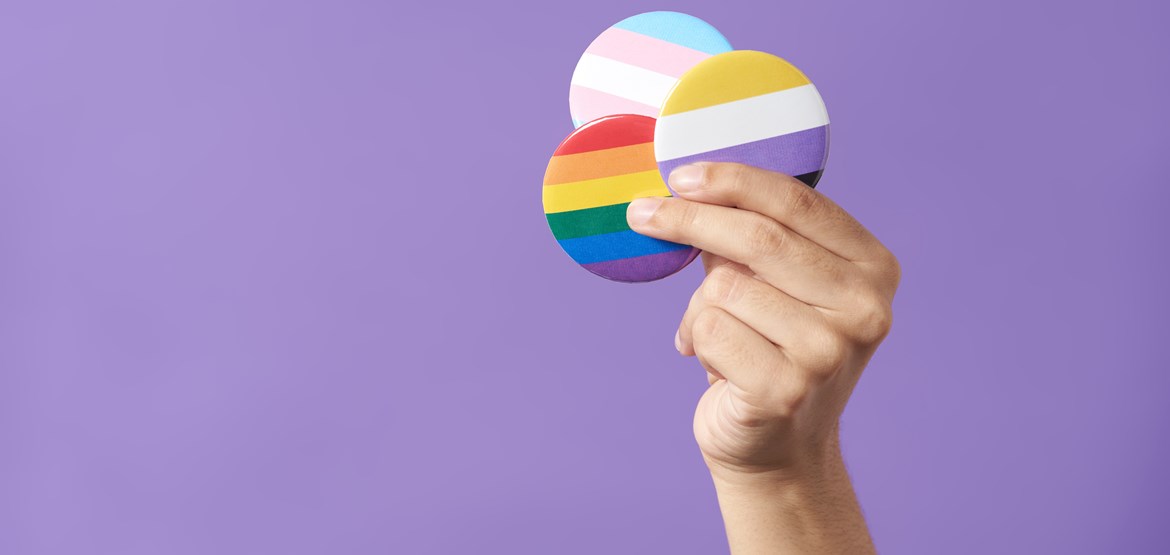 It's difficult to get accurate information on alcohol use by trans and non-binary people. Stonewall1 data shows LGBTQ+ people drink more alcohol compared to their heterosexual and cisgender counterparts generally but narrowing this down to the TQ+ is a frustrating endeavour.
Lack of research
At the moment UK-based research is lacking2, and it can be inaccurate to generalise studies done in somewhere like the USA given the different nuances in society and culture. We know that transgender people drink more alcohol than cisgender people2. Marginalised queer people often find alcohol comes hand in hand with community3 – using these spaces to feel the warmth and freedom required to explore their identity4 or deflect the stresses they face as a member of a minority5 community amid rising queerphobia6 in the UK. This lack of research and focus harms transgender and non-binary communities.
But being able to show how much alcohol a group of people use is only half the issue. Whenever we consider how to help, prevent or treat someone, we need a robust evidence base to recommend it.
This could come in the form of social interventions, psychological assistance, or medications. The evidence for these interventions is often based on research that ignores diverse communities, frequently failing to examine beyond the gender binary7. How can we target alcohol interventions which will meaningfully help transgender and non-binary people if we are not talking to and working with those communities? There are countless papers on the reasons that various cisgender and heterosexual populations drink and what systems need to be put into place to support them – though these too often lack funding.  
Healthcare barriers
This lack of research poses a series of healthcare problems. Even in a world where we did have enough support services, how do you direct a transgender person to the most appropriate health service when the NHS does not routinely monitor gender identity and healthcare professionals often do not know their patients are trans?
The numbers are rough, 8% of trans people aren't out to anyone when seeking medical help. 40% face difficulties accessing healthcare because they are trans. 16% have been refused care for being queer and 37% avoided treatment for fear of discrimination.1 These figures are worse for people of colour and do not account that a higher number of trans people may avoid cisnormative substance misuse treatment systems generally5. People of colour face additional difficulties due to the intersection of racism and queerphobia, and due to this may face increased distress leading to increased alcohol consumption8. On a global level, trans and non-binary people report needing greater help5 for reducing substance use including alcohol harm than cisgender respondents. This is unsurprising given the impact of belonging to a minority community has in our current environments.
The Scottish Trans survey highlights that medical professionals need to be better educated on their patients' cultures and identities and that services need to be actively advertised as being inclusive or offer trans-specific support9. Given half of the respondents felt that their alcohol or drug use was impacted by being trans, alcohol recovery services require a more inclusive approach and understanding of these factors.
So, not only are we lacking research to provide evidence-based help, but we are also lacking a culture that encourages and enables trans and non-binary communities to receive good medical care. The emphasis for this should not be placed on the individual – it is the onus of healthcare institutions to meet their responsibilities of providing a service in which TQ+ people do not face worse access to, experiences of, or outcomes from (as they currently do).
Alcohol support for trans people
Trans people also seem to be more likely 10 to face sexual violence after drinking alcohol so the provision of services for survivors of sexual violence needs to be adequately prepared to support trans and non-binary communities who may well have different needs than the cisgender/heterosexual population.
Outside of alcohol-specific services, there are over 10,600 transgender people on the waiting list for a gender identity clinic appointment. At the time of press, first appointments11 are currently being received for people referred in December 2017. Given alcohol may be used to self-medicate for gender dysphoria and minority stress2, if we truly want to help reduce alcohol harm, there is a need to improve support for trans and non-binary people.
In the meantime, there are various LGBTQ+ alcohol support services that are helping to plug the gap and can offer guidance on alcohol-related support to members of the trans community. If you are at risk of alcohol harm or need support with your drinking or someone else's, you can also talk to a health professional at your local GP or contact any of these support lines.                                                                                                              
References
Please note that any third-party content on the Drinkaware website is intended for general information and non-commercial purposes only. Any links to third party websites are provided solely as a convenience to you and not as an endorsement by Drinkaware of the contents or accuracy of materials on such third-party websites. A guest author does not represent Drinkaware or their views. All care has been taken to ensure it is accurate at time of publishing, but medical guidelines often change, and this post may not be updated to reflect that. Always consult a suitably qualified medical professional in a timely manner before undertaking any medical-related decisions.