Drinkaware publish evaluation of their 'City Pilots' project in Salford and Bolton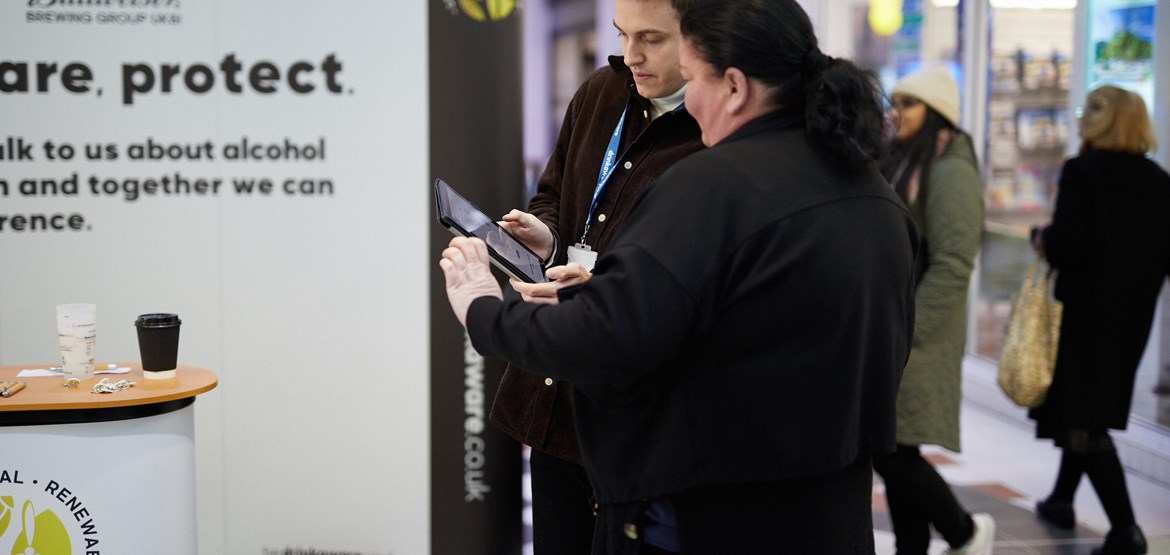 City Pilot events were held in Salford and Bolton across six days to help people understand their drinking habits, and receive follow-on support where needed

Hundreds of people were engaged about their drinking habits, and over 430 people completed the digital IBA, which provided the opportunity to advise on reducing alcohol intake

Independent qualitative evaluation reveals that many respondents reported a positive change in behaviour
Drinkaware has today, 7 August, published the independent evaluation report of their City Pilots project, which aimed to help people identify high-risk drinking. They focused on two key areas, Salford and Bolton in Greater Manchester, identified as having higher levels of alcohol harm compared to the national average.
The Pilots were a collaboration between Drinkaware, Budweiser and Achieve – the NHS community addictions service – used Drinkaware's digital Identification and Brief Advice (IBA) to support people in understanding their drinking habits and potential risks. IBAs are evidence-based interventions that help identify people at risk and provide them with brief advice tailored to their specific needs. Drinkaware's digital IBA is based on the World Health Organisations AUDIT tool, an internationally recognised quiz developed to help people identify their alcohol risk level.
To engage the public and open the conversation about drinking, Drinkaware and Budweiser organised a series of events in late 2022, held at shopping centres in Salford and Bolton. These events featured on-site stands, where people could speak about their alcohol intake and understand their own drinking habits and the risks.
Where it was identified that people may need further help with their alcohol use, staff from Achieve were on hand to provide information, advice, and referral on to the most appropriate support and treatment.
Drinkaware data showed that more than 435 people completed the digital IBAs, and many more were engaged. Of those that took part and completed the digital IBA, 31 per cent were high risk drinkers compared to the national average of 13 per cent.
The response from those who took part was positive, particularly those who were surprised by their results from the self-assessment. Many expressed their appreciation for the experience, commenting that it was "eye-opening" and were "grateful" for the help.
An independent evaluation of the activity was conducted by DJS research as part of the project, which included a sample of participants being contacted a number of weeks after the stands had taken place. These follow-ups revealed that several people recalled specific suggestions and advice given on the day. It's also reported that the sample:
Had used the freebies provided on the day, such as the Drinkaware measuring cup

Shared information with friends and family

Many of those who initially claimed they would make a change, had gone on to do so
The behaviour change impact on some of the participants was positive, with a participant from Salford saying, "It turns out I was a bit 'over the limit', and now I can cut down. It really enlightened me!".
Examples of the positive changes included swapping one drink on a night out for a non-alcoholic version, switching to drinks with fewer units, and discovering non-alcoholic versions of their favourite alcoholic beverages. Another Salford participant said: "I'm glad I took part. It's made me think more about what I drink, when I drink and why I drink."
Drinkaware CEO, Karen Tyrell, said:
"Working in partnership with trusted organisations to provide people with practical support and advice to help change their drinking habits is an important part of what we do.
"Being able to have conversations with people and help them understand how much they are drinking, as our evaluation shows, is an important step towards helping people make positive changes.
"It is important that on a personal level and as a nation, we can speak openly and without stigma about drinking habits. And, working together with organisations like Budweiser and Achieve will allow us to strive towards tangible changes to the UK's drinking culture so more people can lead healthy and happy lives." 
Sarah-Jane Truman, Head of Community Development for Achieve said:
"We are delighted to have been involved in this exciting piece of work to support Salford and Bolton's communities with their alcohol use, building on our previous involvement with City Pilots initiatives over the past two years.
"Shopping centres are a great location to engage with people – at a time when they may be reviewing what beverages to purchase. Our Achieve service's stand was co-located next to Drinkaware and Budweiser's, meaning that, if someone was identified as needing further support with their alcohol use, we could chat with them then and there, at the point of interest, tell them all about the services we have available, and/or refer them to further support or treatment.
"Our partnership with these trusted brands really helped to destigmatise NHS care, and removed the barrier of people having to actively approach the NHS to ask for help, or travel to an NHS premises, which can be really daunting. Ultimately, we were able to reach more people, and provide non-judgemental advice, guidance, and support, to many who may not have otherwise come into contact with our services."
To complete your own self-assessment to understand your drinking habits and whether they're in line with the guidelines, then visit our digital scratch card tool.