Drinkaware Cup attracting more walking football teams as midlife men and women see health benefits
Second annual competition crowns Nottingham Forrest champions.
This week (Tuesday 17 September) saw eleven walking football teams from across the country compete in the second annual Drinkaware Cup.
Attracting more participants this year, the tournament for midlife men and women, in partnership with Derby County Community Trust, saw Nottingham Forrest crowned champions once again after beating Doncaster in a heated final.
Drinkaware has been working in partnership with Derby County Community Trust since 2017. As part of the Trust's broader health programmes, Drinkaware provides alcohol education and advice to people taking part in walking football activities. The scheme has delivered noticeably positive health results. In its first year, Drinkaware found that 55% of walking football participants were drinking at risky levels; by the end of the season, with the support of Drinkaware and the Community Trust, this reduced to just five percent.
Chris Grayson, Head of Account Management at Drinkaware, said: "We are so grateful to Derby County Community Trust for hosting the Drinkaware Cup for its second year. We believe that by working collaboratively with the Community Trust we can offer tailored support to people to help them make better choices about their drinking.
"Taking part in team sports can be transformational, helping improve both physical fitness and mental health for those taking part. We've already seen some incredible positive changes in some of the players' health. That's why, as part of our flagship campaign, Drink Free Days, we're really championing activities like walking football that help inspire people to moderate their drinking - it's a great alternative activity to make Drink Free Days fun.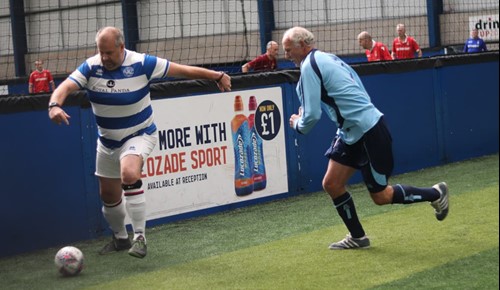 "Drinkaware would like to congratulate everyone that took part in the Cup and we are looking forward to seeing this this tournament continue to grow."
As well as cheering on the teams, the Drinkaware team was on hand to offer information and advice to the players. They were given the opportunity to use Drinkaware's DrinkCompare Quiz to measure their drinking habits and received tailored information on how to make lasting changes to their lifestyle in order to reduce their risk of health harms from alcohol.
Dave Harris, a Derby resident and Derby County walking football team player, said: "Without the support of Drinkaware we wouldn't be where we are today. We take our fitness very seriously. I'm not saying we don't drink, we do, but we're aware that if we want to put in a performance then we've got to cut down. I'm fitter now than I have been for the last twenty years since I started playing."
Luke Wilkinson, Health Team Leader at Derby County Community Trust, said: "Our relationship with Drinkaware has gone from strength to strength since the initial sponsorship investment they made in 2017. We have been able to work together to deliver key messages around alcohol consumption, which are particularly important to our walking footballers who are looking to keep themselves healthy."