Count14: understanding how your drinking adds up
Last week I was delighted to meet Dr Catherine Calderwood, Scotland's Chief Medical Officer.
She gave her time to discuss a variety of issues for Drinkaware and the Scottish healthcare system when it comes to alcohol. In particular, how we all endeavour to support and empower people with knowledge and information to help them make healthier lifestyle choices.
Drinkaware has long been committed to working in close collaboration with medical professionals, and works with our independent medical advisory panel. The Scottish Government is running a further burst of its campaign to raise awareness of the UK recommended maximum alcohol limits. The aim is to help people understand how their drinking adds up.
'Count14' has been developed to highlight the guidance that men and women should drink no more than 14 units of alcohol a week, to reduce the risk of developing health problems.
It complements Drinkaware's own campaign to encourage people to take more drink-free days. In fact, if you choose to drink, including more drink-free days into your week will help keep you on track to stay within the 14-unit limit.
So what is 14 units? It is equivalent to six pints of medium strength beer, lager or cider, six medium glasses of wine, or seven double measures of spirits. To keep the risk of harm from alcohol to a minimum, it's best to spread those 14 units over at least three days, and include several drink-free days each week.
Dr Calderwood explains: "The guidelines are based on scientific evidence on the short and long term impacts drinking alcohol has on health. This important campaign makes people aware of the guidance and helps them understand what 14 units means in terms of what they drink, so they can make informed choices and reduce the risk of harm."
If you want to know more, please visit count14.scot.
Elaine Hindal Chief Executive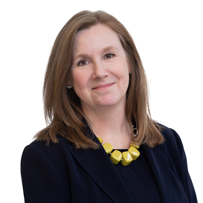 Elaine joined Drinkaware in 2013 from The Children's Society, where she was Director of External Relations. Prior to that, Elaine held a number of global marketing roles with Nokia, Cadbury Schweppes PLC where she was Commercial Strategy Director for EMEA and Global Category Director, Chocolate; and The Coca–Cola Company, where Elaine was Global Brand Director. Prior marketing and communications experience was with Beiersdorf AG and Boots. Elaine is a Trustee of the Royal Mencap Society, where she advises on brand and communications strategy.