80% of adults in the UK don't know the low risk drinking guidelines
87% of UK adults have heard of the low risk drinking guidelines but, only 18% know that they are 14 units a week
Younger age groups (18 -34) are least informed, only 11% are aware of what the guidelines are compared to 22% of people 55 and over
The guidelines were introduced in 2016 by the UK Chief Medical Officers
Alcohol Awareness Week runs from 3-9 July
Eighty-two per cent of adults in the UK don't know the low risk drinking guidelines are 14 units per week, according to data from Drinkaware for Alcohol Awareness Week. This is despite the guidelines being introduced by the UK's Chief Medical Officers in 2016.
The guidelines were developed using the latest scientific evidence, to help people understand the risks from drinking alcohol. Regularly drinking more than 14 units in a week increases your risk of developing a range of health problems including cancers of the mouth, throat and breast. It is recommended that people have several drink-free days and no bingeing every week to keep within the guidelines.
Drinkaware's annual UK-wide survey of over 6,300 adults, the Monitor, also showed that:
There is a significant difference in awareness between men and women, with women (22% ) reporting more awareness of the low risk drinking guidelines compared to men (15%)
Adults in the age group of 18 to 34 are the least informed, with only 11% being aware of the guidelines and 20% of adults aged 35 to 54
Those aged 55 and over are most knowledgeable about the recommended 14 unit limit at 22%
There are also differences in knowledge across nations, with 22% of Scottish adults correctly knowing the low risk drinking guidelines, compared to the UK-wide average of 18%
Nearly half of UK drinkers (47%) said they moderated their drinking by staying within the guidelines. However, just 21% who moderate this way know the low risk guidelines are 14 units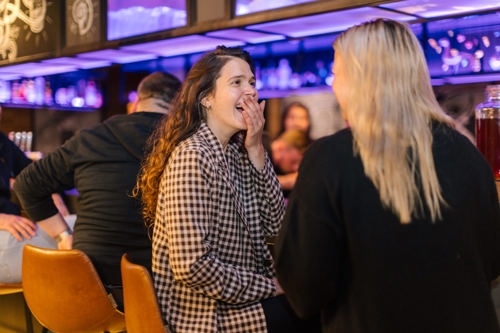 Karen Tyrell, Drinkaware's CEO, says:
"It is worrying that the vast majority of people still don't know what the low risk drinking guidelines are, despite them being around since 2016. Alcohol Awareness Week is a chance to help people understand them and how they can be used to reduce the risk of serious health problems.
"If anyone is worried about their drinking or wants to drink less, Alcohol Awareness Week is a good time to talk to your friends and family. We all need to be able to talk more openly about alcohol so we can tackle the harm it does.
"Drinkaware has a plenty of advice and support on our website, including a self-assessment to help people identify if they are drinking too much and putting their health at risk."
Drinkaware has free advice and guides available on its website, such as a self-assessment and an app to download. They can identify if drinking is putting your health at risk and track your alcohol consumption, calculate units, and set goals to help you moderate your drinking. For more information on responsible drinking, visit www.drinkaware.co.uk
-ENDS-
Notes to Editors
Alcohol Awareness Week takes place from 3-9 July and is coordinated by Alcohol Change UK. It is a week of awareness-raising, campaigning for change, and more. Each year, more than 5,000 public health teams, workplaces, GP surgeries, pharmacies, hospitals, charities and other community groups across the country sign up to take part.
The full Monitor research report from Drinkaware can be found here: https://www.drinkaware.co.uk/research/drinkaware-monitors/drinkaware-monitor-2022
Information on the Drinkaware Annual Monitor: Every year, Drinkaware commissions a representative survey to understand the UK's drinking behaviours and motivations. A core sub-set of questions is included in the questionnaire every year to understand changes in key variables over time. Other questions are developed to reflect that year's theme, in 2022 being the harm alcohol can do to others.
About the survey: UK-wide sample of 6,318 adults aged 18 to 85 were interviewed, including 3,692 in England, 1,013 in Wales, 1,001 in Scotland and 612 in Northern Ireland. The fieldwork was conducted online. The sample was drawn from the YouGov research panel, with responses collected between 29th April and 26th May 2022. Data has been weighted to represent the UK adult (18-85) population according to age, gender, social grade and region. The sampling and weighting process is consistent with that used in the 2017,2018, 2019 and 2020 2021 Drinkaware Monitors. In addition, there was a boost sample of participants from ethnic minority backgrounds. 667 UK adults were interviewed, who were classified as Mixed or Multiple ethnic groups, Asian, Black, or Other ethnic groups, according to the UK Census categories. These were combined with 341 respondents in these categories who naturally fell out of the main Monitor sample, to make a total of 1,008 respondents in the final ethnic minority dataset.
Drinkaware is the UK's leading alcohol charity which aims to reduce alcohol harm. We achieve this by providing impartial, evidence-based information, advice and practical resources; raising awareness of alcohol and its harms and working collaboratively with partners. www.drinkaware.co.uk
Press and media contacts
Elizabeth Read
Senior Media & Communications Officer
Email: eread@drinkaware.co.uk
Matt Jackson
Head of Media & Communications
Tel: 07814 497908
Email: mjackson@drinkaware.co.uk